Podcast: Play in new window | Download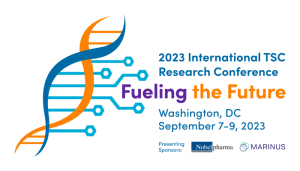 On this episode of TSC Now, host Dan Klein recaps the 2023 International TSC Research Conference: Fueling the Future held September 7-9, 2023, in Washington, DC. The conference brought together over 200 researchers from around the world representing a wide array of specialties and the entire spectrum from basic science to clinical research.
The comprehensive three-day agenda included plenary sessions, breakout group discussions, a poster session and reception, as well as an Early Career Research Symposium during which early-stage investigators had the opportunity to report on their cutting-edge research, network, and learn about the diverse paths forward in the field of TSC research. To learn more about how the conference came together, what was discussed and what are some of the outcomes coming from those discussions Dan interviewed the two Co-Chairs of the conference.
First, Dan spoke with with Shafali Jeste, MD, (01:42) Professor of Pediatrics and Neurology at the USC Keck School of Medicine, and the Las Madrinas Chair, Chief of Neurology and Co-Director of the Neurological Institute at the Children's Hospital, Los Angeles. They discuss the role of the Co-Chair in the planning and execution of the conference, how bringing in outside experts create new avenues for research and collaboration, and how recent clinical trials may provide a blueprint for the standard surveillance and care for infants with tuberous sclerosis complex (TSC).
Next, Dan talks to Rebecca Ihrie, PhD, (14:41) Associate Professor, Cell & Developmental Biology and Neurological Surgery, Vanderbilt University School of Medicine. She shares how basic scientists benefit from interactions with clinical researchers and the TSC community, how new techniques cell biology may allow for more targeted drug testing and how participation in the conference by early-career researchers helps them form connections and determine their future path in research.
Learn more about the 2023 International TSC Research Conference by downloading the program book.