Podcast: Play in new window | Download
In Episode 30 of TSC Now, host Dan Klein kicks of Infantile Spams Awareness Week 2021, an initiative from the Infantile Spasms Action Network (ISAN) that runs December 1-7. ISAN is a collaboration of 32 national and international entities, including the TSC Alliance, focused on raising awareness for infantile spasms, a devastating type of seizure that usually begins in children who are less than one year old and can lead to developmental delay.
This year in addition to raising awareness of IS to parents and caregivers, ISAN is redoubling our efforts to educate frontline physicians, including pediatricians and ER doctors, who might be the first person confronted with an IS case and who are key to elevating those cases to the appropriate specialists to ensure a quick diagnosis and start of treatment.
To better understand the challenges physicians may face when trying to diagnose IS and how ISAN might reach physicians with our messaging, Dan chats with Dr. John Mytinger (01:31), a pediatric neurologist at Nationwide Children's Hospital and Assistant Professor of Clinical Pediatrics and Neurology at The Ohio State University College of Medicine. He shares why IS can be tough to diagnose, what the seizures look like, and how professors, doctors and advocates all play a role in educating medical professionals. He also discusses what parents should do if they suspect their child is having infantile spasms.
Throughout the week the TSC Alliance and other ISAN members will be posting about Infantile Spasms on our social media channels. Join the conversation and help spread awareness with #ISAW2021.
If you or someone you know suspects their child is having infantile spasms, remember the mnemonic STOP IS.
[S]ee the signs
[T]ake a video
[O]btain a diagnosis
[P]rioritize treatment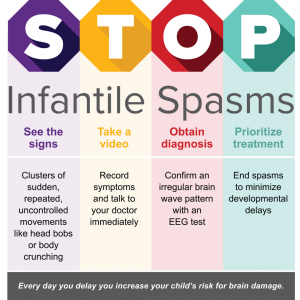 Time is brain. The faster a child is diagnosed and treated for infantile spasms, the less the potential for long-term neurological effects. Learn more about Infantile Spasms Awareness Week (Dec. 1–7) at www.infantilespasms.org.
Links and Resources