Podcast: Play in new window | Download
In a special bonus episode of TSC Now, host Dan Klein learns about a new children's book called Totally Super Cool, which was developed by Nobelpharma America, LLC.
This Podcast is being sponsored by Nobelpharma America LLC. The opinions expressed are those of the speakers individually based on their experience and do not reflect the policies or positions of Nobelpharma. The following content is for informational purposes only. The book being discussed is fictional and may not reflect the experiences of an actual TSC patient. Individual symptoms, treatment, and experiences related to TSC may vary.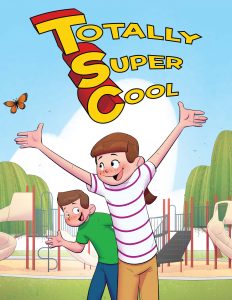 The story follows a day in the life of two kids, Tori and Tommy, who have TSC and facial angiofibroma. The sister-brother duo share experiences familiar to kids with TSC, including answering questions about facial angiofibroma and visiting different healthcare specialists. What makes this story unique is how the narration accompanies their day, which finds fun words for the acronym TSC.​ In the end, Tori and Tommy see how their family and friends care for them and want them to Take Special Care. Totally Super Cool aspires to show children with TSC that their accomplishments are what make them special and unique.
To learn more about the book and the process to develop it, Dan talks to Doug Loock, VP Head of Commercial Operations at Nobelpharma America, LLC and Jonathan Goldstein, a former future leader for the TSC Alliance who participated in a panel during the development of the book (01:21).
For more information on how to get a copy of Totally Super Cool, email NPA-corporate-info@Nobelpharma-US.com. Learn more about Nobelpharma America at https://www.nobelpharma-us.com/.